Jessica Brown
term: 2018 – 2020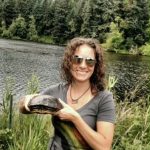 Jessica Brown
Vice President, Washington
Growing up in the rural town of Yelm, Washington, Jessica was able to spend a lot of time outdoors enjoying the natural world. Having a father as a veterinarian, she naturally gravitated towards a career of working with animals in some sort of capacity. Jessica started working in the veterinary field during high school, and has accrued more than 25 years of experience mainly as a veterinary assistant. She is an active member of World Vets International and has provided free veterinary care to communities in Nicaragua on multiple projects and in Cozumel, Mexico on a pilot project.

Most of Jessica's undergraduate work was completed at Western Washington University, however, her final year she attended Saint Martin's University where she received her BS in biology. In 2018, she received her Masters of Environmental Studies from The Evergreen State College with focus on wildlife conservation and disease ecology. For her thesis research, she conducted a parasitological survey of Cascade red fox at Mount Rainier National Park. While in her second year of the Masters program, Jessica worked as a Conservation Program Coordinator with the Sustainability in Prisons Project. This work involved coordination of Western pond turtle recovery in two prisons, and a woodpecker nest monitoring program in collaboration with the U.S. Forest Service. Currently an intern with the Washington Department of Fish and Wildlife, Marine Mammal Investigations unit, she assists with marine mammal strandings, necropsies, seal capture and tagging, and marine mammal observation. 
In her spare time, Jessica enjoys organic gardening, traveling, participating in triathlons, metalsmithing, and spending as much time outdoors as possible (especially on or near the water). She recently moved back to her hometown where she lives with her boyfriend, son, two cats, and dog in the house her grandparent's built in 1950.