Member Publications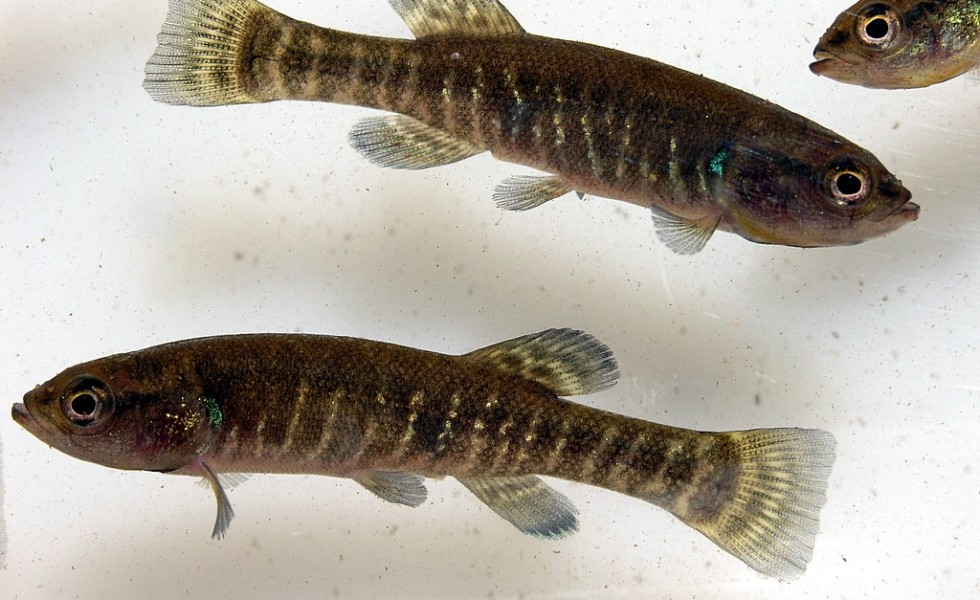 Olympic Mudminnow (Novumbra hubbsii), photo from www.wildfishconservancy.org.
Overview and Submissions:
On this post we feature recent publications from among our active members. Interested in showing off your recent publication(s) here?
Or, email your citation to snvb.webmaster@gmail.com.
Publications:
Current SNVB members are indicated by boldface type in each citation:
Snover, Melissa L, Michael J Adams, Donald T Ashton, Jamie B. Bettaso and Hartwell H Welsh, 2015. Evidence of Counter-gradient Growth in Western Pond Turtles (Actinemys marmorata) across thermal gradients. Freshwater Biology Vol. 60 (9): 1944-1963. Link.
Hossack, Blake R, William R Gould, Debra A Patla, Erin Muths, Rob Daley, Kristin Legg and Paul Stephen Corn, 2015. Trends in Rocky Mountain Amphibians and the Role of Beaver as a Keystone Species. Biological Conservation 187:260-269.
Sealy, Spencer G, 2015. Breeding Status of Ancient Murrelets Attending Gathering Grounds Near Langara Island, British Columbia, 1970-1971. Northwestern Naturalist 96(1): 87-92.
Hendricks, Paul, and Susan Lenard. 2014. Pygmy shrew (Sorex hoyi) in Montana east of the Rocky Mountains with comments on its distribution across the Northern Great Plains. Canadian Field-Naturalist 128:204-206.
Wheeler, Clara A, Jamie B Bettaso, Donald T Ashton and Hartwell H Welsh Jr. 2014. Effects of Water Temperature on Breeding Phenology, Growth, and Metamorphosis of Foothill Yellow-Legged Frogs (Rana boylii): A Case Study of the Regulated Mainstem and Unregulated Tributaries of California's Trinity River. River Research and Applications, DOI: 10.1002/rra.2820.
Wilk, Randall J, Jeffrey D Ricklefs and Martin G Raphael. 2014. Abundance of Western Red-backed Salamanders (Plethodon vehiculum) in the Washington Coast Range After Headwater Stream-Buffer Manipulation. Northwestern Naturalist 95(2): 92 – 102.
Bury, Bruce, Rick Demmer and James Sippel. 2014. Discovery of Cope's Giant Salamanders (Dicamptodon copei) East of the Oregon Cascade Range Crest. Northwestern Naturalist 95(2): 115-119.
Ambrose, Skip, Robert J Ritchie and Christine Florian. 2014. Use of and Responses to Audio Survey Technique by Peregrine Falcons in Alaska. Northwestern Naturalist 95(2): 125-128.
Cudmore, Wynn W and Bruce Bury. 2014. Resource Partitioning in Two Stream Salamanders, Dicamptodon tenebrosus and Rhyacotriton cascadae, from the Oregon Cascade Mountains. The American Midland Naturalist 172(1): 191-199.
Barela, Kimberly L and Deanna H Olson. 2014. Mapping the Western Pond Turtle (Actinemys marmorata) and Painted Turtle (Chrysemys picta) in Western North America. Northwestern Naturalist 95(1):1-12.
Johnston, Aaron N and Robert G Anthony. 2014. Brush Mouse (Peromyscus boylii) Occurrences in Southern Oregon. Northwestern Naturalist 95(1):54-56.
Jung, Thomas S and Karen J Clyde. 2014. Berry Consumption By Bighorn Sheep (Ovis Canadensis) in the Arid Interior of British Columbia. Northwestern Naturalist 95(1):60-62.
Nagorsen, David W, Ian Robertson, and Devin Manky. 2014. Acoustic Evidence for Hoary Bat Migration in the Coast Mountains of British Columbia. Northwestern Naturalist 95(1):50-54.
Schwab, Nathan A and Todd J Mabee. 2014. Winter Acoustic Activity of Bats in Montana. Northwestern Naturalist 95(1):13-27.
Tabor, Roger A, Andi M Kopit, F.Teal Waterstrat, Christina M Meister, and Bradley E. Thompson. 2014. Diet of Adult Olympic Mudminnow (Novumbra hubbsi). Northwest Science 88(1):33-43.
Kozma, Jeffrey M and Andrew J Kroll. 2013. Nestling provisioning by Hairy and White-headed Woodpeckers in Bird, Krista L. 2013. Observation of polyandry in endangered Greater Sage-Grouse (Centrocercus urophasianus) in Alberta, Canada. Northwestern Naturalist 94(3).
Garwood, Justin M, Roland A Knapp, Karen L Pope, Robert L Grasso, Michael L Magnuson, and Jeff R Maurer. 2013. Use of historically fishless high-mountain lakes and streams by Nearctic River Otters (Lontra Canadensis) in California. Northwestern Naturalist 94(3):51–66.
Hendricks, Paul, Deborah Richie, and Lisa M. Hendricks. 2013. Aerial ramming, a burrow excavation behavior by Belted Kingfishers, with a review of its occurrence among the Alcedinidae. Wilson Journal of Ornithology 125:197-201.
Slough, Brian G. 2013. Occurrence of Amphibians in British Columbia North of 7oN. Northwestern Naturalist 94(3):180-186.
De Forest, Lisa G, Ann C Matarese, and Stacy Remple. 2013. Larval descriptions of two eastern North Pacific Cryptacanthodid species, Cryptacanthodes aleutensis and Cryptacanthodes giganteus. Northwestern Naturalist 94(2):89-102.
Hendricks, Paul. 2012. Winter records of bats in Montana. Northwestern Naturalist 93:154-162.
Kozma, Jeffrey M. 2012. Nest-site characteristics of three woodpecker species in managed ponderosa pine forests of the eastern Cascade Range. Northwestern Naturalist 93(2):111-119.